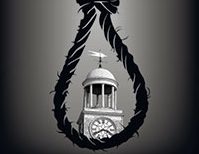 The Bridport Dagger is an early joke, at least as far back as Tudor times when Leland, who might have been described as geographer to Henry VIII, wrote "at Bridport be made good daggers". He fell for the joke which referred to the local hempen rope made into the hangman's noose.
On a couple of occasions I have been roped up. Some time ago I would tell the history of magic to small audiences, using tricks and illusions as illustrations. One, escapology, involved me tied with rope, saying "some of Bridport's best". I should have been freed when two volunteers pulled on ends of the rope. To the laughter of the audience, I became more tightly tied up and had to ask the volunteers to release me. More practice required!
The history of local rope and nets has been told in several books and is well displayed in Bridport Museum. Much of the Marshwood Vale area was suitable to grow the plants from which these products were made. The centre of flax growing was Symondsbury, stretching down to the coast around Bridport to Chideock and north to Netherbury and across the Somerset border. Hemp was grown also around Allington Hill, Bradpole, Loders and Beaminster. With both flax and hemp the long internal fibres were desired and the outer casing had to be removed. This began with the process of "retting" in ponds, then "hackling", like hard combing by hand. Hemp is the taller plant, up to 8 to 12 feet and is harvested by cutting above ground level, while flax grows up to 4 feet and is pulled to include the roots. Occasionally a field of flax may still be seen with its small blue flowers. As a schoolboy during the last war I spent a fortnight pulling flax around summer holiday time. Machines could be used, but we were employed where the plants were too short or had been beaten down by bad weather. We realised how hard people worked by hand in 1800.
Flax fibres are fine, ideal for linen, lines, thread, Honiton lace and sailcloth. Hemp fibres being coarser were more suitable for rope, nets, lines, canvas, sackcloth and webbing. Twine and lines were made from both flax and hemp. By the 1800s a large proportion of fibre was imported from Russia and surrounding countries.
The first recorded mention of our local area in connection with these materials is in 1211 when the local Pipe Rolls included an order for hempen thread. In 1213 King John ordered "to be made at Bridport, night and day, as many ropes for ships both large and small cables as you can, and twisted yarns for cordage for ballistae". A century later in 1322 six rope makers were sent to Newcastle to demonstrate their skills. Local ropes and cords for rigging were supplied to the Navy and general shipping until the Admiralty set up their own rope walks in the Royal Dockyards, possibly inspired by Samuel Pepys. The resulting downturn in orders for ropes was eventually compensated for by trade with Newfoundland in the 18th century, supplying ropes, cords and especially fishing nets and lines. Bridport Harbour set up a shipyard about this time which also was an outlet for rope, rigging and sailcloth. Whilst sailcloth was produced in the Bridport and Beaminster areas, Coker in Somerset was also very well known. Beaminster also produced sackcloth as a speciality. Lacemaking is best known from Honiton and other places just into Devon, but also some from Lyme Regis.
When sailing ships were replaced by steamships the sailcloth market almost disappeared, and the rope market also diminished, but lines and nets continued. It has been said that some Bridport factories paid their workers partly with salt fish from Newfoundland. Eventually the "cottage industry" of ropewalks and spinning ways became outworkers under groupings of employers, and then factories were established. Another outlet for local nets was in sport, for football, tennis, billiards, etc. A further change was the introduction of synthetic fibre in place of flax and hemp, with now new markets for aircraft nets and military uses.
So through the years there has been a change from growing the plants for fibre, cottage industry, group employment, factories established, amalgamations, etc., throughout our local area. Without checking its history now one might not realise where the growing areas were, or the retting ponds and bleaching fields. The long walkways close to houses might now be considered a local quirk, rather than a workplace, and many of the factories overlooked. But even today small companies produce nets and employ outworkers, for specialist sports nets, e.g. for billiard tables.
Thank goodness there is no longer a market for the Bridport Dagger.
Bridport is holding a Ropewalk Fair over the weekend of May 10th – 11th, including heritage walks, talks, live music, with a family fair on the Millennium Green at Mountfield, with stalls, food, tug of war and tracing  family's rope – making history. More details from Bridport Museum.
Local crafts may be shown by Bruce Upton to Bridport History Society on Tuesday 13th May at 2.30 pm in "Villages Around Bridport" at Bridport United Church Main Hall, East Street. All welcome, visitors £2-50.
Cecil Amor, Chairman, Bridport History Society. Tel : 01308 .456876.