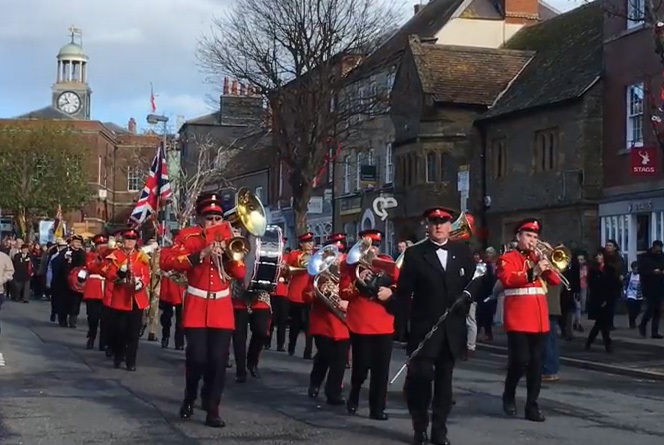 In a week when Europe was united in its remembrance and respect for its war dead, it's hard to believe that our alliance is imploding as the Brexit debacle begins to unravel to the point where the carefully cast stitches are about to be pulled through the knitting needles.
The yarn is increasing and the object is diminishing.
Whatever your views – and I am firmly in the remain camp, having ended up in hospital on the day the referendum vote was announced with what turned out to be a heart attack– you can't fail to have noticed that the whole thing is a complete mess.
Today's news of the 500-page 'deal' document and its inevitable repercussions come just days after we were all standing together, parading together, reflecting together, thinking together, praying together one hundred years after the end of World War One.
We've had moving pictures in the sand on the beach at Lyme Regis with Danny Boyle's Pages of the Sea on Remembrance Sunday.
The face of Rifleman Kulbir Thapa, the first Gurkha to be awarded the Victoria Cross, appeared in the sand at Lyme. As the tide came in, it was washed away as those who gathered on the beach took a moment to say a collective goodbye.
In towns and villages across West Dorset, ordinary people paid their respects.
Children took part alongside veterans in the annual Remembrance Sunday parade at Bridport, where hundreds lined the streets to mark the special anniversary.
They laid wreaths at the war memorial in South Street, solemn and dignified as the 151 names of Bridport's First World War dead were read out.
And at the service in St Mary's Church, led by Bridport team Vicar the Rev Pete Stone, prayers were said and hymns were sung. We sang Jerusalem, I Vow To Thee My Country and God Is Our Strength and Refuge to the tune of The Dambusters' March.
Relatives of the war dead were there in the church. They stood up when asked to do so, and then their numbers increased as others affected by war rose from their seats to stand alongside them.
The overwhelming message was not only thankfulness but one of hope, because without hope, without light, the world can be a very dark place.
The parade marched out of the church and up towards Bucky Doo Square where the Mayor of Bridport, Councillor Barry Irvine, stood at the podium.
Those who died serving their country were more than names on Bridport's War Memorial, he said.
"They were part of the day to day life of the town and they did not come back to resume life with their families again.
"2018 is a year of commemoration, a year in which we look back. However, it must also be a year of renewal, a year in which we pledge as a community to continue these more precious of lives, cut short by the tragedy of war.
"Bridport salutes them today and, forevermore, we will remember them."