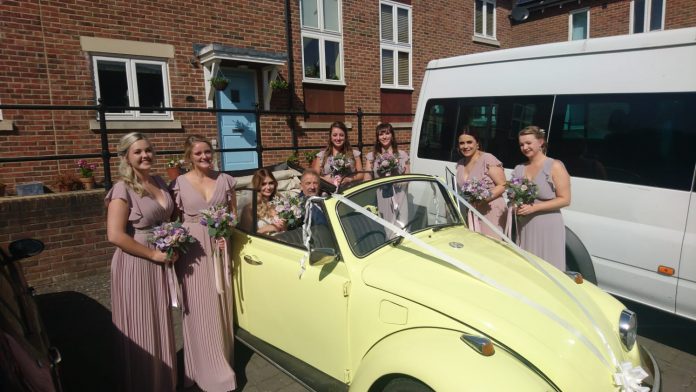 The beep beep of the horn ensures everyone sees the bride and groom making their way from east to west, from Powerstock, where they were married, to the tithe barn at Symondsbury, where they will celebrate at a reception for family and friends.
The Beetle is open-topped and the bride has to have her wits about her to ensure the train does not fly out and obscure the vision of drivers behind or, worse, ending up wrapped around the wheel. No-one wants a    style moment on their wedding day.
My son makes a good job of driving this idiosyncratic vehicle, which first saw the light of day in 1969 as a bright red model. Since then, the car has been painted a gorgeous primrose yellow. She's mine and I love her.
She's my second VW Beetle. My first was a 1972 model, gold in colour, which I bought twelve years after she was first registered. She cost £400 at auction and I sold her for the same amount a couple of years later.
The Beetle I have now goes by the name of Bella. I am not one for giving cars a name. A car is a car after all. But her previous owner used to call her Belle. And when we drove down through Italy in this glorious vehicle just months after I'd bought her, every time we parked, people would come up to her and say 'bella, bella'.
Bella is not for sale, although, after her starring role in a local wedding, she could be available for weddings, christenings, proms and barmitsvas.  Just name your price.
The old girl has done me proud since I bought her in 2007 from a district nurse in Bedford. She's limped through MOTs, been patched up underneath a few times and then completely stripped and restored four years ago. Cheap insurance, road tax exempt – she's great.
All I need to now is perhaps treat her to a new frame to go under her roof and then she'd be perfect. But then there's the wobbly wing mirror, the horn button under the dashboard because the proper one doesn't work, and the two keys needed for the ignition and the heater that belches out hot air whether you want it to or not. And then there's the windscreen wipers that don't work in unison.
But she drives like a dream with that wonderful, purring, hairdryer-meets-sewing-machine-meets-something-much-throatier sound, and doors that clunk shut as if they mean it.
So I was a little saddened to hear Volkswagen are no longer going to be making this truly iconic vehicle, although the new model could just as well be a completely different car. On the other hand, the news makes my Bella even more precious.