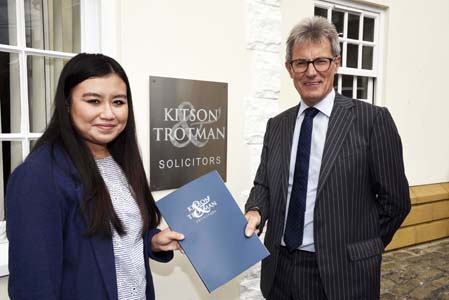 West Dorset student Marina Parker has been awarded this year's Kitson & Trotman bursary to study Law at university.
Marina, 18, was a student at the Sir John Colfox Academy, Bridport, where she has passed A levels in Government & Politics, English Literature and History. She has won a place to study Law at Swansea University.
"I'm really interested in Law, especially Criminal Law," she said.
For her work experience she spent time with a local solicitor, went to Weymouth Magistrates Court and sat in on a police interview.
Marina said: "I am very grateful for this bursary and I would like to thank Kitson & Trotman for awarding me this bursary. My ambition is to be a solicitor working in criminal Law. Work experience helped me decide to pursue a career in Law."
Becoming a legal translator could be another option. Marina, who lives in Powerstock, was born in Japan and returned to Bridport when she was an infant. Her mother is Japanese and her father is British. She travels regularly to Japan to visit family.
"But I would have to learn legal terminology in Japanese and also have to learn to write Japanese, which would be very hard."
Kitson & Trotman Partner Richard King said: "We would like to congratulate Marina on being awarded this bursary. We had a number of good applications from schools and colleges across west and south Dorset.
"We are committed to supporting young people and good causes in this area. We have a programme of sponsorship which includes sporting clubs, countryside events and art and literary festivals."
Kitson & Trotman have been providing quality, expert legal advice and services to individuals and businesses since 1756. The firm has offices in Bridport, Beaminster, Weymouth and Lyme Regis.
The firm's first bursary was awarded to student Nicole Hannon, from Chickerell, who is now studying Law at King's College, London.
"I'm glad I chose King's as my university and have made some great friends and great memories in London," she said. "I find law very interesting and want to study hard and become a Lawyer."