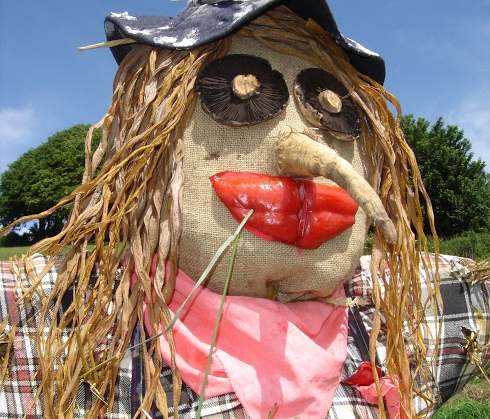 Fete and wedding season crash in like terrible twins to announce that summer in England has well and truly arrived.
Who needs Wimbledon and the World Cup to remind you of the season when you have the forthcoming nuptials of family and friends and a village fete just around the corner?
There's a wide-brimmed hat in a box on top of my wardrobe and a bag of coconuts by the front door ready for the village fun day. The house smells of onions – pre-cooked for the barbecue – and if I trip over the chicken-wire limbs of a scarecrow once more I swear I'll throw the damn thing out before the competition has even begun.
I'm a big fan of a BBC 3 television comedy series called This Country. It captures the spirit of growing up in a small, rural community in such a brilliant, poignant way, chiming with my own experience in which the most exciting thing was to join in an attempt to see how many teenagers could fit in the telephone box.
Saying that, the village fete being opened by Beryl Reid was quite something, although I recall much more vividly the occasion when the fete was launched by a Black and White Minstrel and a Television Topper. Actually, they could have been anyone because they refused to appear in costume.
Mind you, if they'd turned up in their showbiz regalia today they'd have probably been lynched, and quite rightly so. It is hard to explain to the present generation of young people how blacking up and objectifying women was all right in the seventies but not today.
I mention This Country because the very first episode features a village scarecrow festival, which, as I know from experience, has the power to both unite and divide a small community.
Kurtan, who, along with his cousin, Kerry, is one of the show's hapless protagonists, becomes increasingly frustrated when his chances of winning the competition are compromised by being given a less than ideal plot to display his scarecrow.
Where I live, most people put their scarecrows outside their front doors. Competition is fierce, with heads and limbs littering garages and utility rooms throughout the village in the lead-up to the big day.
Every year I come up with a brilliant idea but, every year, it's let down by the execution. Time rushes by and I find myself in the early hours of competition day still trying to make hands and painting on features on a paper mache head that's in danger of collapsing because I've tried to take a shortcut on the amount of newspaper I use.
Some people have a team of helpers to set up their scarecrow but I usually end up struggling outside as I stuff the torso with cushions, straw and old duvets to give the scarecrow some flesh on tis chicken-wire bones.
This year, I attach the legs to Alfred Hitchcock and drag him out in a director's chair into the village square. The master of suspense is dressed in my husband's black suit and shoes, which I hope to God no-one steals because I haven't even asked if I can use them.
Hitch's accessories are a black crow on his shoulder and a clapperboard on his lap. My neighbours use a step ladder to string up three rows of origami rooks above him, from their window to the Give Way sign. It's looking good. We might even win a prize.
And then I glance across the square where a young family is positioning Jack Sparrow way up high on scaffolding at the front of their house. It's brilliant. My neighbour across the road has the most wonderful Cleopatra and a chap up past the pub has created four scarecrows sitting on a sofa watching the telly.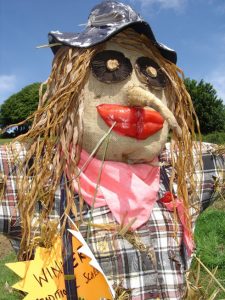 And that's just the scarecrows I can see.
When I fail to get a prize I console myself with the fact that it's the taking part that counts and then curse that I've spent hours on the bloody thing over the last month which could have been used much more productively.