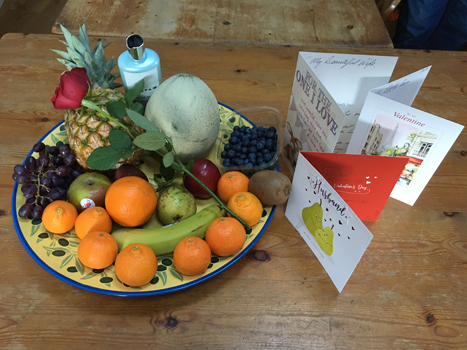 Valentine's Day is a funny old thing.
This morning, I've opened up my laptop to find images on Facebook about my friends' day of presents, food and loveliness.
It feels like a romantic onslaught. Status updates illustrating a kind of 'my love's better than your love competition': I'm so happy I could burst, we're such soul mates, you are the greatest hunni, babes, look what I got etc.
What would really be the ideal gift is a sick bucket.
I do feel a bit sorry for those who are on their own and can either only imagine what it's like to be so loved-up or have only fond memories of those no longer with us.
And we all know that loving gestures aren't just for one day of the year. We should be loving, giving and, most of all, kind to each other for three hundred and sixty-five days of the year.
It's such a commercial load of rubbish, with supermarkets selling bunches of roses, balloons, mugs and teddy bears.
But this bah-humbug's heart soared on reading the story in this week's Bridport News about Clare and Paul Violet, who met in 1985. Paul carved their names and a heart on an old tree in Coneygar Lane in 1986 two years before they married.
The beech became know to their family and friends as 'Paul and Clare's tree', so imagine the couple's horror on learning the beech was being felled because of disease. Luckily, Paul was able to negotiate with the district council's tree cutting team to save the heart carving section.
The story warmed the cockles of my heart, once I'd checked that carving your initials on a tree doesn't actually kill it (unless you completely strip the bark). It was a nice ending for Paul and Clare but I was also heartened because it shows council tree cutting teams have human emotions.
I'm a tree lover, a tree hugger and wouldn't carve my initials in a tree if you paid me. Apart from worrying I might get caught and done for vandalism, I don't like to see such a thing of beauty defaced. However, each to their own, and Paul and Clare's story is certainly heartwarming.
Maybe as well as giving the original heart carving pride of place, they can plant a new beech tree – nature's way of renewing their vows.
Incidentally, Valentine's Day did not pass me by completely. I received a very thoughtful gift of a single rose and a bowl of exotic fruit. The Mister and I stayed in with a Waitrose dinner for two. This was perfect, following a disastrous outing a few Valentine's Days ago to my home town in which I nearly got my head kicked in during a 'buy one drink get one free' happy hour by an unromantic young woman who was out on the lash with her mother.
It's a jungle out there.