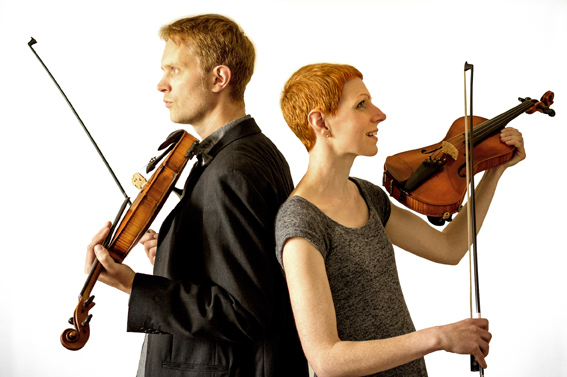 North Devon folk fiddle stars Nick Wyke & Becki Driscoll bring their beautifully crafted acoustic sound to Bridport this Spring as part of their "Beautiful Spaces" tour.
Fresh from a 2018 tour in Canada, and with a new album on the way the duo will showcase some of the material from their forthcoming release "Cold Light", alongside old favourites from their extensive catalogue of tunes and songs.
The joyful combination of English fiddle partnership Nick Wyke and Becki Driscoll welcomes you into their family from the first note. This is a masterclass in the art and mystery of connection. Nick and Becki's refined arrangements feature intricate subtleties that build to driving rhythms, stunning harmonies and dramatic crescendos.
These compositions are infused with shared stories, songs and tunes from England's West Country and beyond – and it can all start from just one simple riff.
Becki says: " We love playing in amazing spaces with no amplification, and that's what this tour's about. Just the instruments and voices and a direct connection to the audience. The resonance of the space makes a profound difference both to the listener and the player, and we've picked venues where this can happen."
This is music for the heart, the mind and the soul, and an evening in Nick and Becki's company will remind you of the importance of each.
Friday 22nd March, The Chapel in the Garden, 49 East St, Bridport, DT6 3JX
7.30pm
Tickets £8 in advance / £10 on the door
Advance tickets from www.wegottickets.com/englishfiddle