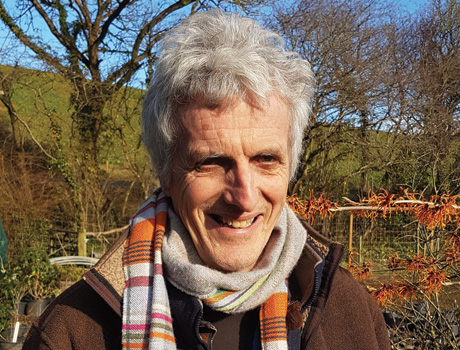 A garden designer, nurseryman and writer, there isn't much that Charles Chesshire does not know about plants. And he loves to talk about them. Anyone visiting his haven of a nursery, Charles Chesshire Plants & Gardens, situated by the old sheepwash in Symondsbury, can experience his vast knowledge and enthusiasm for plants. Stocking rare and special plants, Charles specialises in but is by no means limited to; Peonies, Clematis, Maples, Hydrangeas and Perennials. Any plant a customer might require which is not in stock is meticulously sourced, and if required, discussed according to habitat and situation.
Growing up on the Welsh Borders, Charles jokes that he has "Camellias in the family", as his ancestors travelled to China to collect plants, resulting in a Camellia named after them. His career to date is a kaleidoscope of interesting, fabulous and most renowned gardens. He has designed gardens and landscaped for Sheiks' Palaces in Saudi Arabia, for Billy Joel in Manhattan, various rooftops and terraces across New York, is restoring the Rhododendron garden in Lydney Park and designed Morton Hall gardens, Inkberrow. He has written books, in particular on Clematis and Japanese Gardens and provides consultancy where and when needed. But right now, he has settled in Symondsbury, to be able to just "breathe" plants.
Charles's main aim for his clients, whether they are a grand estate or someone with a postage stamp back yard, is for them to love and enjoy their garden. He can foresee as soon as he walks into a garden what it could look like, and works with the clients' wishes and needs to provide them with anything from a hand-sketched drawing to full design and implementation.
On holiday he eschews swimming pools, preferring to trek to wild places to see the plants he admires so much in their natural habitat. Currently researching a book set in China, Charles spends a lot of his time in the evenings reading. Cooking most nights, he puts what he has learnt from his travels into good practice in the pan. Feeling like he belongs here in "Herefordshire-On-Sea", as he calls the Marshwood Vale area, Charles is making a new pot-shaped niche for himself in Dorset.