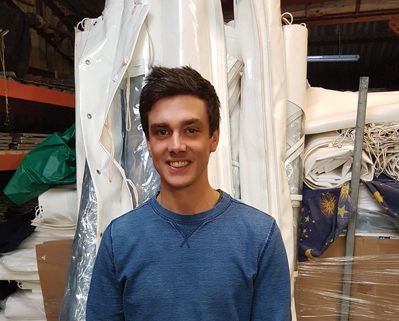 Brothers, business partners, travelling buddies, drinking cohorts and general muckers, the Ironmonger brothers Charlie and John do a lot of things together. Four years ago they set up Taddle Farm Tents, a marquee hire company which is expanding year on year, much in line with the size of their constructions. Based in South West Dorset they cover the surrounding areas, supplying and erecting marquees for events with furniture, lighting and flooring hire too.
Charlie explains the business was set up when he was working for a local pub that was closing for a few months, and John was unhappy with his office job in Bristol. They decided that if they didn't go for their business idea at that time, then they simply had to stop talking about it forever more. Inspired by a friend's wedding reception which took place on the field next to their home, they watched the marquee go up and thought it looked like good fun, something they could do themselves. So they each invested their personal savings, starting with a few modest tents, quickly followed by a large-scale marquee after the first year. Now, they have a number of different marquees, a seasonal staff of nine working for them, and some very popular on-trend lighting, furniture and flooring for their clients to choose from.
Working hard, with up to 15 hour days in the busy months, Charlie has put his bar training to good practice and has a personal licence to sell alcohol, adding to the repertoire the business offers. When he has time, he likes to walk the countryside he knows so well, having grown up on Taddle Farm itself. Often his steps end with a pint or two in a local pub, where Charlie can be found chatting and joking, thick as thieves with his mates and near-doppelganger, elder brother John.