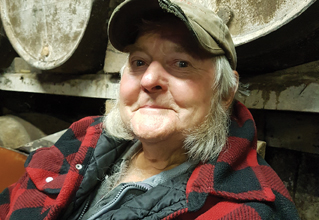 Should you veer off the A35 towards North Chideock, leaving the main village of Chideock behind, you'll meander down a tree-lined road, passing picture-perfect wheat fields, lampposts heralding an ancient church, slices of sky glimpsed through trees and pass a farm with horses and ducks paddling in the stream. If you turn left into a working yard, take a sharp right and push through the corrugated iron doorway, following the smell of apples, you may well come face to face with 'Hoppy', head of Chideock Cider Shed and local legend.
Colin Hopkins, or Hoppy as he is known, started coming down to the cider shed when he moved to Chideock aged 18. He learnt "off the old blokes" about making traditional farmhouse cider. The method involves handpicking windfall cider apples between October and December. All the cider shed members gather together, generally on a Tuesday evening. First, the apples are pulped, then cakes are made from this (pulp pressed into rounds between hessian cloth) and put into the ancient 125 year old cider press. The result is called a cider cheese. This is left overnight, then the cheese is folded and pressed down again. The resulting cider is kept in black tanks before being pumped into wonderfully characteristic old oak barrels, and drunk.
Every year the Chideock Cider Shed holds a Pumpkin Competition, this year on 15 October, at 4pm in the George Pub, Chideock. Competition is rife amongst the locals, who all gather to watch the pumpkin weighing take place, discussing the summer's harvest. Naturally, as Hoppy spends much of his time tending to his vegetables and pruning local fruit trees, he knows a thing or two about growing pumpkins.
Beware though, if you do venture down to the Chideock Cider Shed in search of Hoppy, cider, pumpkin growing tips and tales of yesteryear…it's a very local, traditional tipple, not for the faint hearted!