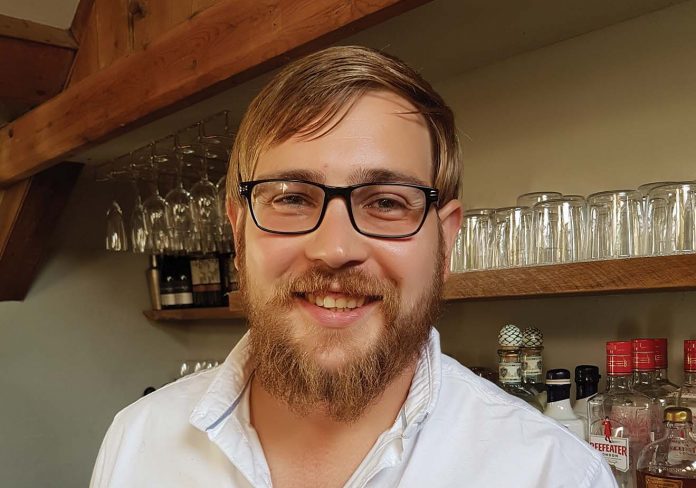 Lloyd Brown, MD of Grey Bear Bar Company grew up in Alton Pancreas, a hamlet nestled in the Piddle Valley. He went straight from school into his first job at The Victoria Hotel, Dorchester, knowing then that he wanted to work in hospitality. He put his head down and started to learn the ropes.
After a few years, Lloyd moved to Reading, where he could really start to focus on learning how to make cocktails, the area he wanted to specialise in. He worked along the riverside where there were lots of bars and restaurants, learning different skills and deepening his understanding, trying to get as much experience as possible. During that time he also started freelancing at cocktail parties in London, exposing him to a whole new level of mixology.
But this Dorset boy got homesick and so googled one day for a 'bar job Dorset'. Up popped one entry; The Venner Bar, The Bull Hotel, Bridport. Lloyd jumped at the chance as it involved a complete blank canvas. The bar was redecorated, rebranded and he hired new staff. It was a complete success; winning the accolade of Best Bar in the South at The Observer for four years in a row, no small feat. When the business changed hands, Lloyd decided it was time to move on. Supported by his wife Vix and the locals he had served over the years he was persuaded to set up Grey Bear.
Now Lloyd advises local pubs, restaurants, drinks companies and hotels on cocktails. Creating them, pairing them, devising menus and training staff to make them. He also has a bespoke portable bar; the Fat Bear, a converted horse box, which he takes to venues. As father of a newborn, he may be burning the candle at both ends but is thriving on having created his own perfect mix in life.