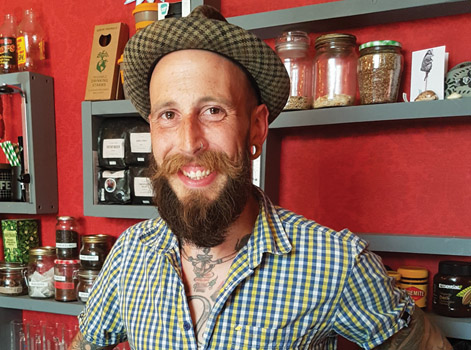 BearKat Café has been at the Lyric Theatre in Bridport for two years now. Set up by Dom Brown, the name comes from 1920s slang for 'hot fiery broad'. Originally meant for the supper clubs Dom hosts, the name has also been absorbed by the café and his event catering business. Serving up a vegetarian all-day menu which Dom sources and cooks himself from local and, as much as possible, organic ingredients. Those wanting to reduce their food's carbon footprint would do well to visit this little café, snuck into the entrance of Bridport's vibrant theatre.
Dom is from an artistic background but found he preferred to explore his artistry through food rather than on paper. However, there are examples of his art also exhibited on the walls of the café, alongside other eclectic hangings, decorations and posters that beguile the eye. Dedicated to learning how to cook, Dom's kitchen story demonstrates his determination. He was first introduced to the trade at The Bull Hotel in Bridport before moving on to Hix in Lyme Regis. This was followed by a stint in London, after which he moved back to Dorset to learn how to make bread under Aidan Chapman of Phoenix Bakery. With a full set of skills, he then worked for Soulshine Café in Bridport before deciding he wanted to work for himself.
Dom works hard at what he does. He makes everything you see in the café, apart from the bread that he gets from award-winning bakers Wobbly Cottage (as these days he says he's not enough of an early bird).
When the café closes its doors, Dom puts an emphasis on having fun, he meets with friends, goes down to the beach, lights a fire, cooks up a BBQ, drinks a few beers and enjoys living where he does. Knowing most of his customers by name and with a story behind much of the produce he uses, try asking Dom about his Steaming Bat coffee. You are unlikely to be disappointed.