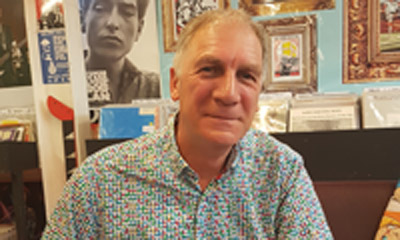 When Roy Gregory of Clocktower Music was a young man in Merseyside, most of his friends were in groups or bands. Unable to sing or play an instrument he consoled himself with buying records. And over the years his collection grew and grew. Until, one day, he decided he needed some space. So he set up a stall in Bridport's iconic market and started to sell his records. The thing is, although people bought the records, they also brought their old records to him to sell. And so, Roy's business emerged.
Roy came across Bridport as he was looking to live by the sea. He started in the Isle of Wight and made his way along the coast until he hit the buoyant bustling market town. Sitting in pubs and cafes he chatted with the locals and found no one had a bad word to say about the place, convincing him he had come to the end of his search.
From his market stall, Roy moved a couple of years later to the shop in the centre of Bridport's St Michael's Trading Estate. Following the devastating fire in the East Wing of the building earlier this year, Roy is grateful to still be able to trade from the Clocktower in the West Wing.
He is also the founder of Vinyl Saturday, a resounding success which has resulted in Bridport being heralded as one of the hot spots in the country for selling vinyl records. Now his lifelong hobby is his livelihood. The shop embodies the eclectic nature of Bridport, with upgraded Bluetooth vintage radios for sale and an old pinball machine in the corner. Crammed full of records; vintage and current, Roy often plays the music of local up-and-coming artists in the shop, giving his customers new material to marvel over.
Now, an integral part of the community Roy helps organise the Bridport Vintage Market each month. With his two daughters now living locally too, Roy also has his grandchildren at hand, keeping him busy with the next generation of music lovers.