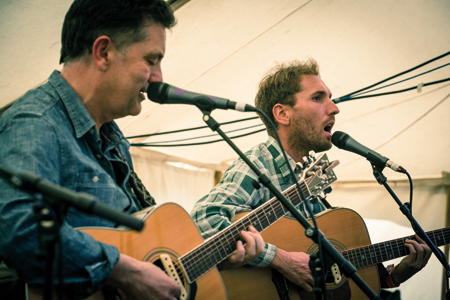 Musician Brian Briggs and Paul Henry bring together poetry and song for a special performance at Sladers Yard, West Bay, as part of Bridport Literary Festival.
Set on a stretch of the Monmouthshire – Brecon Canal, The Glass Aisle is a stunning long poem with songs. It's a collaboration between two major talents in poetry and music – poet Paul Henry and singer-songwriter Brian Briggs, who was frontman of the indie-folk band Stornoway.
With songs composed 'out of a poem', and brought to life in Brian Briggs' clear tenor voice, this work breaks down the borders between the poem and the song lyric while offering a timeless, affecting elegy to the displaced. Two presences loom in the poem: Marconi, who conducted his experiments for radio on this particular part of the canal, and an old union workhouse now converted into houses.
The Poet Laureate, Carol Ann Duffy, says: "In this virtuoso new collection Paul Henry, poacher-like, tracks the journeys of the heart through landscape, love and loss."
Poet Gillian Clarke says: "This haunting, elegiac collection, about music, and made of music, leaves a reader's mind  full of phrases, in both senses – verbal, and tonal – and exactitudes that catch the heart and lodge in the memory."
Before their sell-out farewell tour last year, Oxford-based Stornoway played the main stages at Glastonbury, Isle Of Wight Festival, Green Man and various festivals across the world.
They were the first ever unsigned band to appear on Later….With Jools Holland and had a Top 20 album with their last album, Bonxie. Award-winning poet, songwriter and BBC Radio 4 and Radio 3 presenter Paul Henry is author of ten books of verse, including The Glass Aisle published by Seren in 2018.
You can listen to three sample tracks from The Glass Aisle here https://soundcloud.com/theglassaisle/sets/the-glass-aisle-sampler
The event at Sladers Yard takes place from 12 noon until 2 pm on Remembrance Sunday, 11 November. Tickets cost £15 or £35, the latter price including lunch and are available from Bridport Tourist Information Centre on 01308 424901.