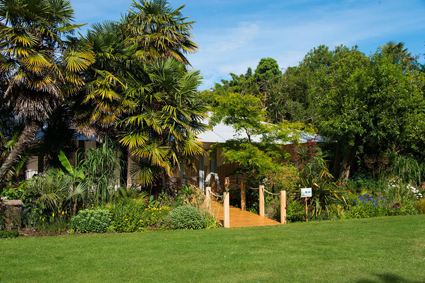 Abbotsbury Subtropical Gardens is hosting the Eat Dorset@Abbotsbury Gardens food fair for the first time on Easter Saturday 2018.
Eat Dorset@Abbotsbury Gardens aims to celebrate the best Dorset produce with more than 25 producers from the county showcasing their wares in the stunning grounds of the Subtropical Gardens. Producers will be selling everything from beer, baked goods, shellfish, charcuterie, chocolate, cheese, cider and so much more.
Entry to the Food Fair on 31 March will be £5 (under 16s free), which also includes access to the Subtropical Gardens, normally £12.50.
Nick Holt of Dorset Fine Dining will be among the many local food talents giving demonstrations, with the chance to crack a crab or make a cocktail with local bartender Lloyd Brown.
Entertainment will be provided by the Durnovaria and Weymouth Concert Brass Bands and visitors can enjoy refreshments in the Colonial Restaurant at the Gardens, which will have the camellia and magnolia collections displaying their full spring colours.
John Houston, General Manager at Abbotsbury Tourism says: "We are delighted to be launching the first food fair of the year at Abbotsbury Gardens with our partners Dorset Food & Drink.
"Visitors to Eat Dorset@Abbotsbury Gardens will have the benefit of visiting a superb food fair as well as one of the best gardens in the UK for the all-inclusive price of £5.
"Given that normal entry to the gardens is £12.50 we think that this is a great deal and hope that lots of local people will take advantage of this exceptional value-for-money day out."
Katharine Wright of Dorset Food & Drink says: "The combination of a great selection of Dorset producers, set in the stunning grounds of the Subtropical Gardens, is a great way to start the season of food festivals.  Visitors will have a unique opportunity to explore not just their taste buds, but the sweet smells and delights of the wonderful gardens too."
More information at www.abbotsburygardens.co.uk
PICTURE CAPTIONS: 1. Nick Holt of Dorset Fine Dining at Abbotsbury Subtropical Gardens. 2. The Garden Pavilion at Abbotsbury 3. The Burma Rope Bridge at Abbotsbury.
NOTES FOR EDITORS:
For more information, high-res images, or to arrange interviews, please contact Anne King at Watershed PR on 01308 420 785, email anne@watershedpr.co.uk 
About Abbotsbury Subtropical Gardens:
Abbotsbury Subtropical Gardens is winner of the 2012 HHA/Christie's Garden of the Year award. They were established in 1765 by Elizabeth, the first Countess of Ilchester, as a kitchen garden for her nearby castle. They are now among the best-known and best-loved gardens in Britain, Grade 1 Listed by English Heritage and filled with rare and exotic plants from across the world.
Stephen Griffith has been the curator of Abbotsbury Subtropical Gardens for the last 24 years. He has masterminded the garden's renaissance following a great storm in 1990. It is divided into a series of zones, geographical (eg, Mediterranean, Himalayan) or time-based (eg, the new Jurassic swamp).
Facilities include The Colonial Restaurant, gift shop and plant centre where many of the flowers grown in the garden can be purchased. Entrance is free to the restaurant, shop and plant centre.  There is free wifi at the restaurant.
The Garden Pavilion is a superb wedding and events venue overlooking the West Lawn in the gardens.
Regular events take place at the garden; it is floodlit from dusk to 8.30pm during the second half of October. Abbotsbury Subtropical Gardens are open every day except from 18 December to 1 January 2019 inclusive, 10am to 5pm, or 4pm in winter (last admissions one hour before closing). Follow on Facebook or Twitter @tropicaldorset
The Gardens are one of the attractions run by Abbotsbury Tourism, 2017 winner of the Best Contribution to Local Tourism award in the Dorset Echo Industry Awards.
Dorset Food & Drink
Dorset Food & Drink is now a Community Interest Company not for profit organisation, here to grow, promote and celebrate the county's vibrant food and drink sector.
Established in 2014, Dorset Food & Drink was an initiate of the Dorset AONB, and has grown to a membership of over 200 producers, sellers, servers, cookery schools and much more.
This year Dorset Food & Drink is moving forward with a new website, new PR campaigns and increased membership, with the aim to make Dorset a real foodie destination, and with local food heroes like Lesley Walters and Mark Hix as ambassadors, this is a great opportunity for Dorset.
For more information on Dorset Food & Drink – Call Katharine on 01305 228239 or email hello@dorsetfoodanddrink.org