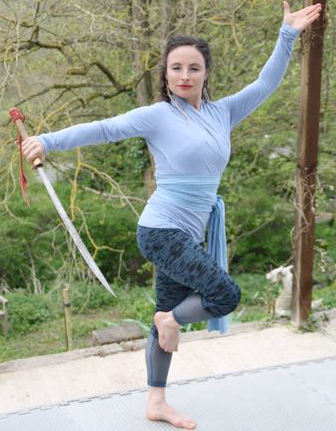 A BOLD NEW STEP IN CONCERT PERFORMANCE, COMPOSED AND
CHOREOGRAPHED BY WOMEN, TO PREMIERE IN THE SOUTH WEST
Resonance, a powerful new music and movement production, is coming to The Lyric
in Bridport, this June. The evening comprises a concert of original and compelling
music performed by a seven-piece ensemble, with two intensely physical performers
supporting the musical narrative on stage.
Resonance is a coming-of-age tale that unfolds in a mystical world of warrior women,
set to music in 11 concert pieces by renowned violinist and composer Alison Jones.
Resonance showcases Jones' complete command of her instrument and she is
supported by a highly experienced ensemble, including flute, pipes, guitar, piano,
double bass, percussion and clarsach or Celtic harp.
It was while visiting the Scottish island of Skye that Jones first heard of the legendary
Celtic queen Scáthach, whose name means 'the shadowy one'. As well as ruling her
tribe of formidable women, Scáthach ran a training academy for young warriors.
Resonance follows the rite-of-passage of Cuchulainn, her most famous student.
Jones has created a musical journey out of this intriguing tale and gathered a largely
female creative team for Resonance, from clarsach virtuoso Hattie Webb, to
choreographer Cecily Fay, who adds a thrilling dynamic to the performance with her
interpretation of the music in a blend of dance, martial art and acrobatics.
The music is a stirring fusion of flamenco, Arabic, classical and traditional Scottish
styles and the melodies are mirrored on stage in a series of breathtaking routines,
played out by Cecily Fay and Ozzie James.
Drawing on the themes and inspirations of the composition, Resonance aims to
address the topical issue of inequality, reflecting on a world where people were
judged on merit rather than gender. A free women-only workshop will take place
before the performance, exploring self-esteem and confidence through music, drama
and dance.
This is just the start. The goal for Shapeshifter Productions, the company behind the
show, is to take it nationwide, expand community interaction via workshops, and to
spread the word that Resonance is no ordinary concert.
RESONANCE
Thursday 7 June, 8pm
The Lyric, 9 Barrack St, Bridport DT6 3LX
Tickets: £12 / £5 conc
Book: BearKat Bistro and Bridport TIC, 01308 424901 or
bridportandwestbay.co.uk/shop
Doors and bar: 7.30pm