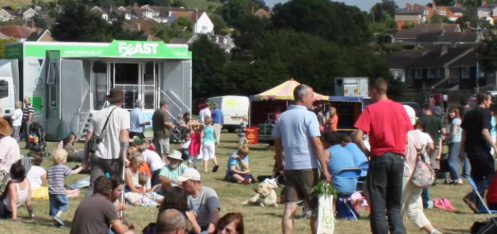 Food Festival Announcement
As probably expected, it is with regret that we are announcing that this year's Bridport Food Festival  (June 14-20) and Bridport Round Table Beer Festival (June 19&20) have been cancelled due to   Coronavirus and the uncertainty of the months ahead.
Obviously, everyone involved in creating this popular community event is very disappointed, but all feel that it is the right decision to make.    Our priority must be with the protection of the visitors, the traders, suppliers and all the volunteers who make it happen.
We would like to thank everyone especially the businesses that kindly sponsor us, the food and drink traders who have booked their stand space with us and our suppliers who help us put on the Festival each year.   We will be in touch with you individually very shortly.
Although plans for the rest of year are sketchy, we will be continuing to support and promote our fabulous local food and drink industry and will be putting our heads together to look at different ways to engage with the community.  If you do have any ideas please do let us know festival@bridportfoodfestival.co.uk
We would like to thank you for your continued support of the Festival, and all look forward to welcoming you back in 2021.
In the meantime, please do keep safe and well