A Quiet Night in with Friends was the winning entry in Broadwindsor's Scarecrow Festival, which took place over the village's annual Fun Weekend.
The theme was Broadwindsor Goes to the Movies. There were Jack Sparrows hanging from scaffolding and sitting outside the White Lion Inn, while Alfred Hitchcock and dozens of birds guarded the corner of the junction with Drimpton Road.
The WI entry was Calendar Girls, Cleopatra was fanned by her own personal slave and Redlands Lane had its very own Marvel character.
The Parish Pump Project did The Shape of Water (a merman overwhelmed by plastic) and the community stores had Audrey 2 from Little Shop of Horrors, hiding in among the plants for sale. There were scarecrows all over the village, including James Bond and Winston Churchill down in Hursey.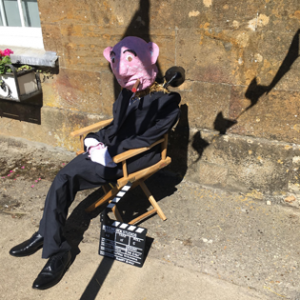 Crowds enjoyed stalls and sideshows and live entertainment, including Broadwindsor Jammers and Director's Cut, on a stage provided by local construction firm P H Hardwill Ltd.
During the afternoon, a local acapella group, Three Tarts and A Vicar, made their public debut with a Cowboy Medley.
Money raised from the event donated to village groups and organisations.