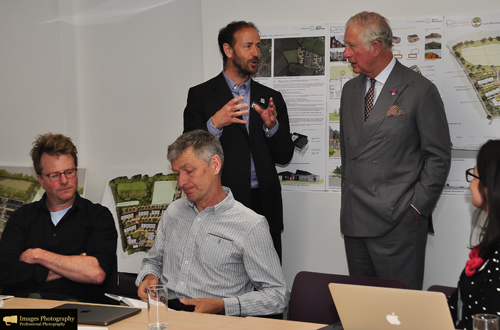 The Prince of Wales makes his first-ever visit to Bridport to see the newly refurbished Bridport Literary & Scientific Institute 
HRH the Prince of Wales visited Bridport to see the historic Literary and Scientific Institute (known by locals as the Old Library) which has been totally regenerated to be once again an important part of the future economy of Bridport. The Trustees of Bridport Area Development Trust (BADT) who have been responsible for rescuing and restoring the building were honoured to have the opportunity to share with Prince Charles some of the history of the building and to show him around the new Town facility.
The Bridport Literary & Scientific Institute (LSI) is a Grade II listed building originally constructed in 1834 as a Mechanics Institute for the education and training of Bridport's young working men. It closed its doors in 1997 having been the Town's library for some forty-five years and fell into neglect, but thanks to the successful campaign led by the BADT, the building has been saved and completely refurbished and rejuvenated.  It is now a fully functional high-tech flexible workspace and meeting rooms where young people and start-ups in and around Bridport can come to develop businesses and ideas.   The Work Hub offers hot desks and other facilities specially designed to encourage collaboration between the users.  The meeting rooms, fully equipped with all the necessary AV equipment, provide space for training, education and work sessions. Lastly, at the heart of the LSI is the Alembic Canteen that provides users of the building, their clients, guests and the people of Bridport a place where they can enjoy excellent food and drink in inspirational surroundings.
Trevor Ware, Chairman of the Bridport Area Development Trust gave Prince Charles and insight in the history of the building and how it has evolved before taking him on a tour where he met regular users of the Work Hub, joined a workshop exploring affordable housing, sustainable construction and renewable energy run by fellow Trustee, Tim Crabtree, and visited LSI's permanent tenants, Crowdfunder UK, who are ideally situated to help young businesses raise capital.
At the end of his tour, the Prince unveiled a plaque commemorating his visit and the LSI's transformation.
"Prince Charles's visit marks the completion of the restoration project of the Bridport Literary & Scientific Institute and celebrates the transformation of the building into a new town asset.  It also is a thank you to the volunteers and the organisations that have helped to fund it and make it happen" Said Trevor Ware.