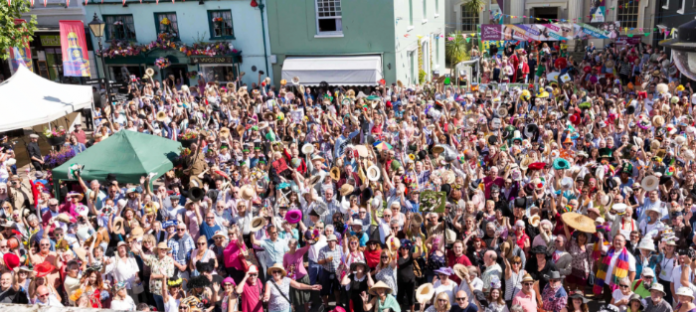 There's that autumn feeling in the air.
The Carnival is over, the Melplash Show has been and gone and now we're gearing up for Bridport Hat Festival.
Quirky is overused when it comes to describing Bridport. It's a word hijacked every time the town is mentioned by outsiders, especially in the weekend supplements.
We do need to come up with another adjective for our special town, although 'quirky' does fit the hat festival to a T. There's nothing quite like this event. Which is hard for me to say because in all the years it's been running, I've been away on holiday every time it's been on.
As a hat person and a holiday person, I've been torn between the two things. Holiday or hat festival? My other half is not at all a hat person, so the holiday's always won. And as I make sure I'm around for every Melplash Show (my absolute favourite day of the West Dorset year), I've missed out on the hat festival on an annual basis.
Not so this year. I was back for the Melplash (and what a show it was) and I'm here for the hat festival.
What prompted me was this video taken by Lottie from The View From Bridport as participants gathered together for the mass hat photo.
https://www.youtube.com/watch?v=zvOTzoa6IKY
As long as I have my escape route worked out, I reckon I can cope with the claustrophobia for a short time, just to be a part of something so brilliant.
I've printed off my programme from the website and I'm pondering what hat to wear. I know many people painstakingly create weird and wonderful creations, but I don't have the time or imagination to do that. It'll probably be a Snook's special which is so broad in the beam it makes me look like a giant toadstool. But if the winds are fierce and threaten to whip off my headgear, I'll plump for the trusty Panama bought in a glorious little hat shop, high up in the Colombian Andes.
Just like the Melplash Show, there is so much to do, I'm not sure where to start. At Melplash, I gazed for ages at the cattle, grazed over the sheep and bumped into friend after friend. I didn't even make it to the horticultural tent, which is a shame because I like looking at the floral artistry and I love seeing the photos.
Having studied the hat festival programme, I think the best thing for me to do is to just wander round, with hat on, and see what I encounter. There's stuff going on this Haturday – sorry, I mean Saturday – all over the place. In Bucky Doo Square, the Borough Gardens, the Bull Hotel, the Millennium Green, the library, St Mary's Hall, the Ropemakers, St Michael's estate and, to top it all, Hank Wangford in concert at Bridport Arts Centre.
The hat festival is run by volunteers and I truly take my hat off to them for coming up with such an original concept.
As Katy Mackenzie from The HAT Magazine says: "What a great festival, so well organised and on many levels a really superb event. I was so impressed at the organisation and how important the event was on different levels, from the local children taking part and making their own headwear, to professional milliners competing in a prestigious competition."